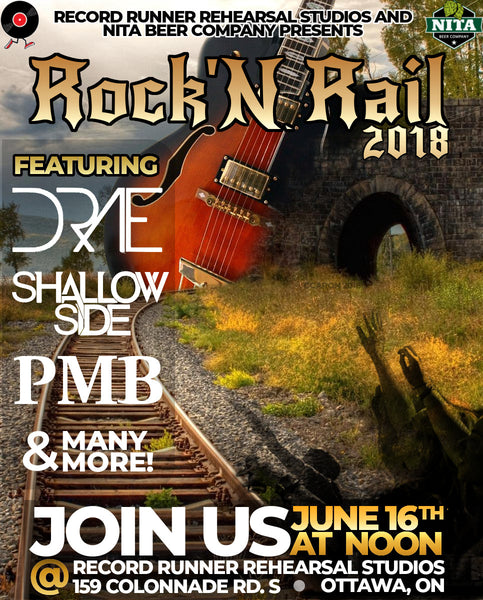 ROCK 'N RAIL FEST 2018 - JUNE 16TH NOON TIL 11 PM(ISH)
FREE FOR 12 AND UNDER!
IMPORTANT TICKET INFO:
BE SURE TO PRINT YOUR TICKET(S) RECEIPT AND BRING WITH YOU TO THE EVENT AS THIS WILL BE YOUR PROOF OF PURCHASE. WE WILL HAVE YOUR NAME ON FILE AND CAN VERIFY YOUR PURCHASE AT THE ADMISSION ENTRANCE.
ROCK 'N RAIL FEST 2018!
BAND LINE-UP (SOMETHING FOR EVERYONE!) 
1:00   CHOCOLATE HOT POCKETS
2:15    JEZEBEL
3:30   KILLED BY KARMA
4:45   TACKIES
6:00   SUBTLE CURVES
7:30    HAWKER
8:45    POWER METAL BAND 
10:00  DRAE
RECORD RUNNER REHEARSAL STUDIOS and NITA BEER COMPANY ARE JOINING FORCES TO BRING YOU THE BEST FESTIVAL DEAL OF THE SUMMER - ROCK 'N RAIL FEST 2018!
BUILDING ON THE SUCCESS OF LAST YEAR'S INAUGURAL ROCK 'N RAIL FEST, WE ARE PULL(PORK)ING OUT ALL THE STOPS FOR 2018 TO BRING OTTAWA MUSIC FANS A FULL DAY OF GREAT MUSIC, AWESOME FOOD AND THE #1 CRAFT BEER IN TOWN, NITA BEER!
FOOD PROVIDED BY "SHORTY'S SANDWICH SHOP". THEY'LL BE  OFFERING UP THEIR FAMOUS PULLED PORK AND A PILE OF OTHER CULINARY OPTIONS TO SATISFY ALL APPETITES!
HERE ARE THE DEETS:
WHAT?   ROCK 'N RAIL FEST 2018 
WHERE?  RECORD RUNNER REHEARSAL STUDIOS - OUTDOORS , 159 COLONNADE RD. S., OTTAWA
WHEN?  JUNE 16TH, NOON TIL 11 PM (ISH :)
WHY? GLAD YOU ASKED...
     1. BECAUSE IT IS AN AWESOME WAY TO SPEND A SUMMER DAY      
     2. YOU WILL SEE, HEAR AND BE SUPPORTING AMAZING LOCAL BANDS, PLUS A SURPRISE OR TWO.,.
     3. IT IS BY FAR THE BEST MUSIC FESTIVAL DEAL OF THE SUMMER.
        *  $20 WITH ON-LINE PURCHASE.
        *  $25 AT THE DOOR ON EVENT DAY.
        *  TICKET GOOD FOR ALL-DAY ACCESS.
     4. AWESOME FOOD, DRINKS AND CAMARADERIE IN A FAMILY-FRIENDLY ENVIRONMENT
     5. WHY THE HECK NOT??!!!
SEE YOU  JUNE 16TH AT ROCK 'N

RAIL

FEST 2018!